Current Korea
Key Allies for Sustainable Growth
2019 ASEAN-Republic of Korea Commemorative Summit
The Association of Southeast Asian Nations (ASEAN) is one of the pillars of the Korean economy as its second-largest trading partner. President Moon Jae-in says he hopes to further strengthen Korea's alliance with the region to achieve his nation's goal of becoming one of the world's top four exporters by 2030. The ASEAN-ROK (Republic of Korea) Commemorative Summit hosted in Busan from Nov. 25-26 last year helped Korea get closer to its goal by elevating its partnership with ASEAN to a new level.
Written by Sohn Ji-ae Photographed by Cheong Wa Dae
Current Korea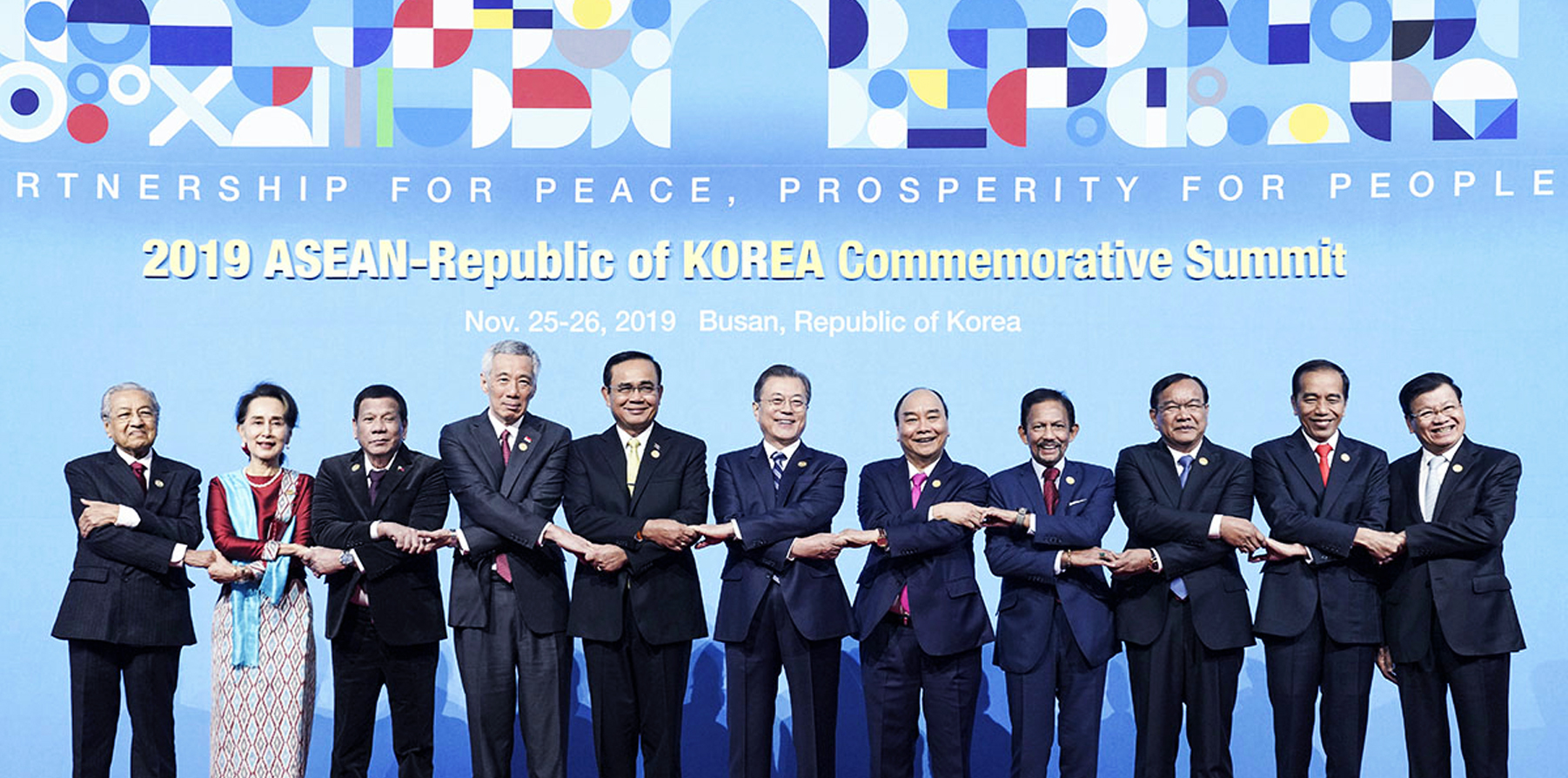 In early December 2019, the Korean government announced that annual trade volume reached USD 1 trillion for the third consecutive year and that the nation posted a trade surplus for 11 years in a row despite the U.S.-China trade war, Japan's export restrictions and sluggish economic growth. These positive outcomes were possible thanks to Seoul's aggressive efforts to expand trade and commerce on the global stage.
To prevent this momentum from losing steam, President Moon Jae-in on Dec. 5 told a ceremony for the 2019 Trade Day of plans to expand the nation's free trade network and support the development of new industries. He said his administration would pursue bilateral free trade agreements (FTAs), especially with Russia and Asian nations including Malaysia, the Philippines and Uzbekistan, with the aim of having Korea's free trade network account for 90% of global GDP by 2022, up from this year's 77%.
To this end, Korea's recent hosting of the ASEAN (Association of Southeast Asean Nations)-ROK (Republic of Korea) Commemorative Summit in Busan greatly helped expand the nation's scope of trade with ASEAN, its second-largest trading partner after China.
The summit also saw the official conclusion of negotiations on the Comprehensive Economic Partnership Agreement (CEPA) with Indonesia. Seoul and Jakarta thus wound up 7 1/2 years of negotiations on this accord that began in March 2012. Such talks had seen no progress in recent years but were resumed in September last year, when Indonesian President Joko Widodo visited Seoul.
Through CEPA, the two countries will jointly pursue the goal of reaching USD 30 billion in bilateral trade volume by this year. Korea will also secure access to 93% of the Indonesian market and see its tariffs on leading exports such as steel products, automotive components and synthetic resin immediately scrapped.
Wheeling and Dealing
President Moon Jae-in on Nov. 28 speaks at the first Mekong-ROK Summit at Busan's Nurimaru APEC House.

The ASEAN-ROK summit also helped further shape Korea's discussions on FTAs in progress with the Philippines and Malaysia. Seoul and Manila agreed in a sideline summit in Busan to continue negotiations to finalize their bilateral FTA by next year. And President Moon and Malaysian Prime Minister Mahathir Mohamad also agreed that an FTA was a necessary step and pledged further efforts to conclude the accord as soon as possible.

In addition, Korea and Thailand signed memorandums of understanding to cooperate on the Eastern Economic Corridor (EEC). This is part of Thailand's economic development model 4.0 Policy, which aims to implement large-scale infrastructure development, foster 12 nextgeneration industries and attract smart cities to three special economic zones in Thailand's southeastern region by 2021. Bangkok will provide incentives to Korean investors with proven strength in innovative sectors such as electric cars, digital robots and hydrogen-powered cars.

What made the ASEAN-ROK summit even more special was the subsequent holding of the inaugural Mekong-ROK Summit. Korea and the five nations through which the Mekong River flows — Myanmar, Laos, Cambodia, Vietnam and Thailand — agreed to bolster cooperation in nextgeneration growth sectors such as culture and tourism, human resource development, health care, agriculture, infrastructure, and information and communications technology.

President Moon said Korea-Mekong cooperation would be the first step toward the long-time goal of realizing sustainable prosperity through shared experiences and peace in East Asia.
Major Move Forward

When the ASEAN-ROK summit concluded with the adoption of the ASEAN-ROK Joint Vision Statement for Peace, Prosperity and Partnership outlining political, security, economic and socio-cultural cooperation measures for the region, President Moon said, "Now we have gained the confidence to present a new solution for the future of the global village."

When the ASEAN-ROK summit concluded with the adoption of the ASEAN-ROK Joint Vision Statement for Peace, Prosperity and Partnership outlining political, security, economic and socio-cultural cooperation measures for the region, President Moon said, "Now we have gained the confidence to present a new solution for the future of the global village."