Outside View
Match Made in Hanok
Traditional Life
"Seoul has many long streets like New York, of course, but our lives don't unfold there. In Seoul, we breathe, eat, drink, argue, love and break up in the countless small alleys that have no names."
This statement about Seoul by Mark Tetto, an American businessman from New York living in the Korean capital, has resonated across Korean society on the internet. Living in a Hanok (traditional Korean house) in Seoul called Pyeonghaengjae (House of Peace and Happiness), he describes what it really means to live in Korea.
Written by Kim Samuel Photographed by Studio Kenn
Outside View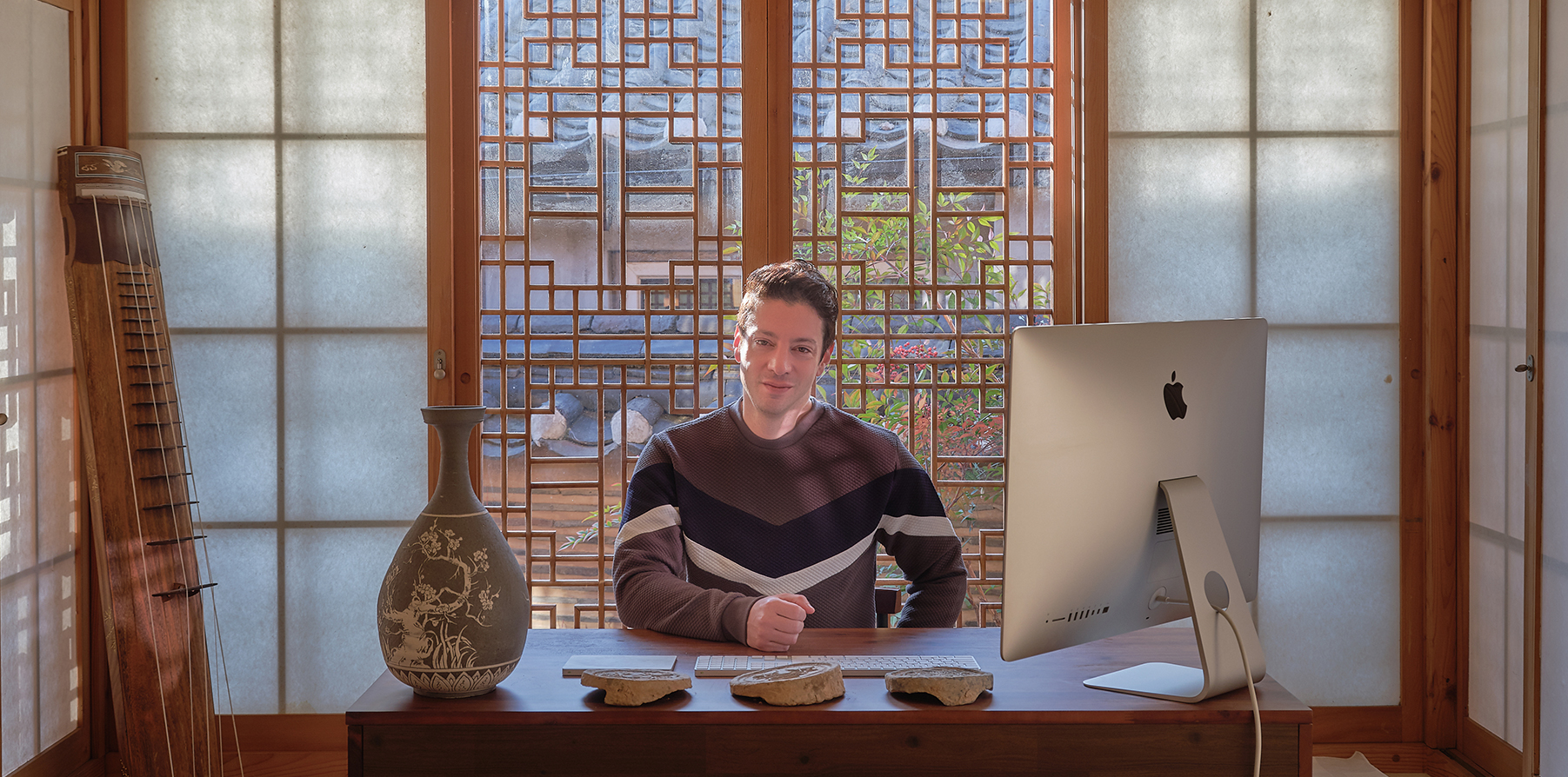 Mark Tetto shot to fame in Korea after appearing in TV programs such as "Non Summit" and is a famous foreign resident of Hanok and an ardent fan of Korea's cultural heritage, but his interest came after he arrived in Seoul. Having worked for Morgan Stanley in the U.S., he went to work for Samsung Electronics in 2010 in Korea. At the time, he lived in a studio apartment in Seoul's posh Gangnam-gu District, but his life changed when he accompanied a friend to Bukchon Hanok Village. So smitten was he with the wooden home that in summer 2015, he ditched his apartment and moved into the Hanok he visited.
"I loved the way the empty house felt. The smell of the house flooding my senses as soon as the door opened was great, and so was the sound of the bamboo outside the window. My friend said, 'You have to visit Hanok every season if want to say you've visited Hanok. The feeling is very different each season.' In the middle of winter, the roof tiles are covered in snow, and in summer, aromas emanate from the floor made of Hanji (traditional Korean paper). The personally cultivated garden shines in spring and fall. In Hanok, the entire flow of the seasons is delivered to those living inside without one missed detail," Tetto said.
Harmonizing Empty Space
Black rubber shoes are placed in front of a wooden porch leading to the garden.

After moving into his Hanok, Tetto headed for Gangnam-gu's furniture street to furnish his empty space. After buying everything he needed, he realized that not a single piece of furniture he bought harmonized with his new home. Thus his housewarming party featured just a sofa in the living room that he had brought from his former apartment. Though apologetic for not having proper seating, Tetto said he was relieved to hear admiration from his friends, who gushed about the "beauty of empty space." This allowed him the time to furnish his home at his own pace. Over that time, every corner of Pyeonghaengjae was filled with furniture and props. He collected them while wandering from place to place, using them to decorate his house or designing them himself, thus making his home cool enough to look like a gallery.

"I thought about what kind of future would fit my house for the first time in my life. Previously, I thought that furniture was furniture and a home was a home based on my belief that they were separate. These new thoughts were a great gift from my Hanok. I designed a low octagonal table and a carpet for underneath by mimicking the patterns of the window frames. I made the table and chairs in the kitchen independently through discussions with the designer so that they could match well. I asked a professional specializing in homemade bowls to design my dishes since I couldn't put carelessly made bowls on such a table. In the end, I made friends with these artisans while working with them over a long period of time. I had no particular affection for furniture, bowls and these types of things, but now memories with friends linger all over the house," he said.
Active in Community
Creating an aesthetically pleasing but simple look is Hanji pasted on the door separating the office and the living room.

Mark Tetto stands in front of his kitchen window .

Tetto caught a glimpse of the curves of roof tiles while looking at the roof of a neighboring house through the window. He studied books and grew absorbed in the collection of roof tiles flaunting varying patterns. He donated most of them to a museum, but a few roof tiles remain on his desk. Tetto became the first foreign honorary gatekeeper of Gyeongbokgung Palace and was named an honorary citizen of Seoul. He said these accomplishments were all thanks to his Hanok never leaving him alone. The name of his house, Pyeonghaengjae, which means "a house in which several lives run parallel," is also how he lives his life. He walks to work, greets his neighbors in the Bukchon alleys and exchanges smiles with the owner of a cafe on the main street. The 30-minute walk to Gwanghwamun Plaza from the trendy Samcheong-dong neighborhood through Gyeongbokgung Palace draws him to the village and the city.

"In Gangnam-gu, I used to come back from work and take the elevator up to my home. Here, I have to pass through the neighborhood on my way home. The road is very warm and nice. Of course, I was fond of Korea when I lived in Gangnam-gu. Grilled pork belly and soju are still my favorites. But this house, which forces me to fasten by hand the lock on so many windows and make time to look around the house, comforts me so that I can gather my senses and live in peace despite my busy schedule," he said.