FPC Korea
- Support for International Correspondents Stationed in Korea

Journalists who are affiliated with news media headquartered overseas and are staying in Korea for more than a year are referred to as international correspondents stationed in Korea. They can apply for a Press Card issued by FPCKorea. Any international journalist possessing this Press Card can access facilities and services provided by FPCKorea, including press releases, briefings and seminars.
Reporting in Korea
In the Republic of Korea, both domestic and international journalists can generally work without government permission. There is no law that regulates or restricts the foreign media working in Korea. However, to cover special issues, journalists may be required to contact a relevant office in advance.
General Coverage
-To arrange an interview, contact a prospective interviewee or relevant office three weeks prior to the desired date.
-To speed up the process of arranging an interview, send the following information: an introduction to your media organization, the purpose of the interview, interview questions and the expected date that the interview will be published or broadcasted.
-Journalists can make requests to government offices or private corporations to conduct an interview in English. However, to facilitate better communication, it would be helpful to be accompanied by an interpreter or a coordinator who is fluent in Korean.
Opening a Branch Office
Foreign newspapers, news agencies and magazines must register with the Minister of Culture, Sports and Tourism to establish a branch office. For more information in Korean, please contact the Media Policy Division at the Ministry of Culture, Sports and Tourism at (+82) 44-203-3210.
- Support for International Correspondents Temporarily in Korea

International journalists visiting Korea for a short time to cover issues are referred to as international correspondents temporarily in Korea. They can request FPCKorea support when arranging and scheduling interviews with government officials as well as when receiving permission to photograph and film in such sites as Deoksugung Palace. Correspondents should begin discussing details and requesting assistance with news gathering activities at least three weeks in advance.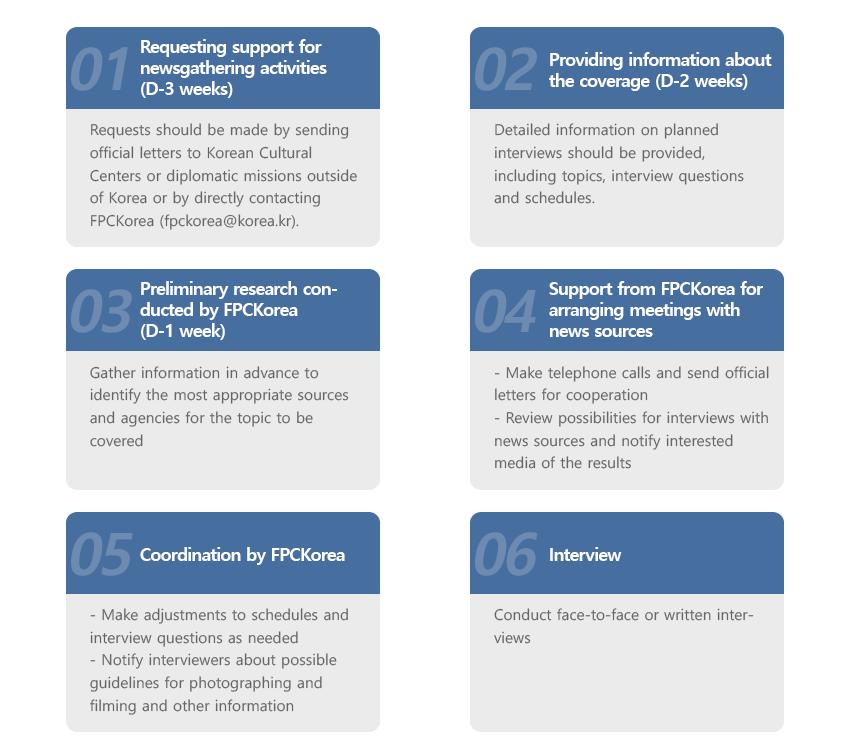 Bringing in Camera Equipment
When visiting Korea for less than one year, journalists can get a tax exemption on equipment.
-In case you intend to bring a large amount of equipment, make sure you have an ATA Carnet, an international customs document, issued before arrival.
-If you intend to bring in just a few items, you can register them at a customs office on arrival.
- Support for Newsgathering Activities during Major Events

KOCIS operates an international press center for major events in Korea and provides support for foreign correspondents. If you have any inquiries about the press center, please contact the Foreign Press Center Korea (FPCKorea), part of KOCIS, via fpckorea@korea.kr.
○ 2018 Inter-Korean Summit Seoul
-Venue : KINTEX, Ilsan
-Date : Thursday, April 26 – Saturday, April 28, 2018
-Facilities : Information desk, briefing room (1,200 seats), rooms for photo and video journalists, International Broadcast Center, master control room, interview room, etc.
-Main Services : Live broadcast of events at Panmunjeom and press briefings, provision of dispatches and photos sent by the press pool, panel discussions and support for interviews with relevant professionals
○ 2018 Inter-Korean Summit Pyeongyang
-Venue : Dongdaemun Design Plaza (DDP)
-Date : Sunday, September 16 – Friday, September 21, 2018
-Facilities : Information desk, briefing room (800 seats), rooms for photo and video journalists, International Broadcast Center, master control room, interview room, etc.
-Main Services : Live broadcast of press briefings, provision of dispatches and photos sent by the press pool, panel discussions and support for arranging interviews with relevant professionals